Implant placement on bone granulation tissue. A case series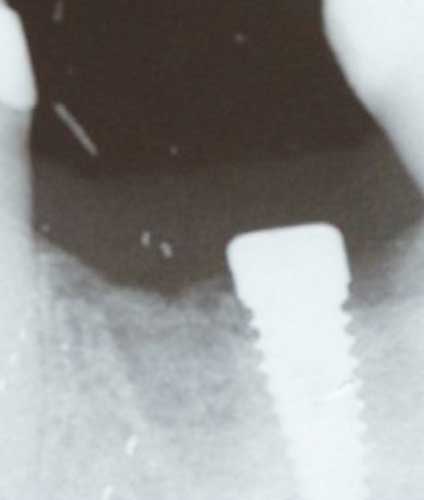 Publisher's note
All claims expressed in this article are solely those of the authors and do not necessarily represent those of their affiliated organizations, or those of the publisher, the editors and the reviewers. Any product that may be evaluated in this article or claim that may be made by its manufacturer is not guaranteed or endorsed by the publisher.
Aim Some of the main challenges in immediate implant placement are the lack of remaining bone for anchorage and socket decontamination in cases of teeth extracted due to infection. The objective of this case series is to describe a surgical technique that is also capable of maintaining bone architecture after extraction, while promoting the decontamination of the area and use the maximum potential of bone cells regenerative capacity.
Case report Three cases were followed for periods ranging from 5 months to 5 years. An early implantation technique was used on all cases, with a waiting period of 21 days after tooth-extraction. This allows the implant placement on a new formed bone granulation tissue, rich in growth factors and osteoprogenitor cells.
Results This approach allowed sites decontamination, formation of vital bone contacting the implant surface, primary stability, good three-dimensional positioning, and satisfactory prosthetic outcomes in all cases.
Conclusions Implant placement on bone granulation tissue is a viable technique and should be considered as an option during treatment planning.
Ferraz, B. F., Stuani, V. T., Passanezi, E., Damante, C., Greghi, S., Rezende, M. L., Zangrando, M., & Sant'Ana, A. (2019). Implant placement on bone granulation tissue. A case series. Journal of Osseointegration, 11(2), 85–91. https://doi.org/10.23805/JO.2019.11.02.02