Implant-retained overdenture using self-aligning and short profile attachments and palateless maxillary denture: a case report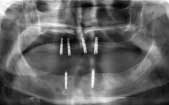 Published:
14 November 2018
Publisher's note
All claims expressed in this article are solely those of the authors and do not necessarily represent those of their affiliated organizations, or those of the publisher, the editors and the reviewers. Any product that may be evaluated in this article or claim that may be made by its manufacturer is not guaranteed or endorsed by the publisher.
Aim A case is reported of the rehabilitation of a completely edentulous patient suffering from gagging problems and with low financial resources with conventional complete dentures. Case report A 55 years old patient came to the outpatient clinic of the prosthodontics department, Faculty of Oral and Dental Medicine, Cairo University seeking for complete denture prosthesis to restore function and esthetics. He reported problems with his complete dentures as he had an exaggerated gagging reflex which interfered with upper denture wearing. Besides, his mandibular denture was unstable and poorly fitted. This patient was strongly recommended for implant prosthesis and, because of his low financial conditions, an implant overdenture was the most proper treatment. Four implants were placed in the upper arch with self-aligning attachment and two implants in the lower arch with self-aligning attachments. Conclusion Implant overdenture is a simple, easy, comfortable, effective solution for restoring edentulous patients at a low cost and with no need for bone augmentation procedures.
Al Adl, A. Z., Fayyad, A. E., Mostafa, M. H., & AlSourori, A. A. (2018). Implant-retained overdenture using self-aligning and short profile attachments and palateless maxillary denture: a case report. Journal of Osseointegration, 10(4), 136–141. https://doi.org/10.23805/jo.2018.10.04.05