Physical-chemical analyses of contaminations and internal holes in dental implants of pure commercial titanium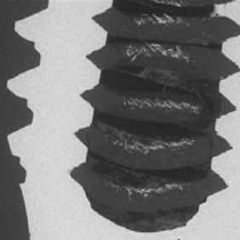 Publisher's note
All claims expressed in this article are solely those of the authors and do not necessarily represent those of their affiliated organizations, or those of the publisher, the editors and the reviewers. Any product that may be evaluated in this article or claim that may be made by its manufacturer is not guaranteed or endorsed by the publisher.
Background: Titanium implants are one of the main forms of tooth recovery in today's dentistry. Its form of packaging, quality control and properties vary greatly by the large number of companies. The objective of this study was to analyze four different commercial brands in their stage of sale for clinical use, according to their physicochemical properties in comparison to the international ASTM (American Society for Testing and Materials) standards.
Materials and Methods: Twelve implants were used and samples were prepared for analysis at SEM (scanning electron microscopy) and EDS (energy dispersive x-ray detector).
Results: The results showed impurities and contaminations in most samples as well as different amounts of holes within the physical structure of the implants, in threads, body and apex.
Conclusions: The contaminations and holes found suggest some quality control failure at some stage of implant production, this failure can compromise both implant resistance and its purity rating.
Penha, N., Groisman, S., Ng, J., Dias Gonçalves, O., & Kunrath, M. F. (2018). Physical-chemical analyses of contaminations and internal holes in dental implants of pure commercial titanium. Journal of Osseointegration, 10(2), 57–63. https://doi.org/10.23805/jo.2018.10.02.05