The efficiency of using advanced PRF-xenograft mixture around immediate implants in the esthetic zone: a randomized controlled clinical trial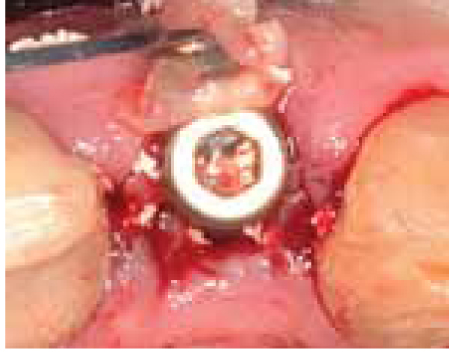 Published:
18 December 2017
Publisher's note
All claims expressed in this article are solely those of the authors and do not necessarily represent those of their affiliated organizations, or those of the publisher, the editors and the reviewers. Any product that may be evaluated in this article or claim that may be made by its manufacturer is not guaranteed or endorsed by the publisher.
Aim Immediate implant placement in fresh extraction sockets is an accepted treatment modality and for better predictable outcomes the resultant peri-implant gap should be grafted. Many grafting materials are available; in this study, a xenograft  was used with Advanced-Platelet-Rich Fibrin (A-PRF) as a supplement to tissue regeneration procedures. The aim of this study was to evaluate clinically and radiographically the efficiency of using A-PRF-xenograft mixture around immediate implants in the esthetic zone.
Materials and methods For this randomized controlled clinical trial, 18 patients requiring extraction of maxillary anterior teeth and immediate implant placement were selected. They were randomly divided into two groups: the study group, where the peri-implant gap was filled with A-PRF-xenograft mixture, and the control group, where the gap was filled with xenograft alone. The variables studied were probing depth, implant stability, marginal bone height and bone density; the follow-up period was 9 months. For statistical analysis, independent and paired t-tests were used.
Results Improvements were seen regarding all variables with no significant differences noticed during follow-up, except for implant stability which showed statistically significant differences.
Conclusion The results highlighted the promising effects of A-PRF-xenograft mixture on bone and soft tissue healing around immediate implants in the esthetic zone.
Kalash, S., Aboelsaad, N., Shokry, M., & Choukroun, J. (2017). The efficiency of using advanced PRF-xenograft mixture around immediate implants in the esthetic zone: a randomized controlled clinical trial. Journal of Osseointegration, 9(4), 317–22. https://doi.org/10.23805/jo.2017.09.04.02