Oral lesions in Granulomatosis with polyangiitis (GPA): An updated overview
Abstract
Aims Granulomatosis with polyangiitis (GPA) is one of the three primary systemic autoimmune vasculitis associated with anti-neutrophil cytoplasmic antibodies. In particular, GPA is characterized by inflammation of small and medium-sized blood vessels that may affect different organs, such as kidneys, lungs and, most commonly, upper respiratory tract. Lesions of the oral cavity, are represented by a group of non-specific lesions that include deep ulcers of tongue, cheek and palate with the presence of oro-antral fistulae, osteonecrosis of hard palate and labial mucosal nodules. However, the most pathognomonic GPA oral lesion is the so called "strawberry" gingival hyperplasia, a gingival swelling of reddish colour with scattered darker petechiae. Generally, such lesions are present in about 6-13 % of GPA patients; however, the recognition of oral lesions can help in establishing early diagnosis and treat the disease avoiding severe systemic involvement.
Methods A literature review consisting of a thorough literature search was performed. Granulomatosis with polyangiitis (GPA) and oral lesions publications were selected from PubMed/Medline. The following keywords and MeSH headings were used for the search strategy: Granulomatosis with Polyangiitis, Wegener granulomatosis, antineutrophil cytoplasmic antibody associated vasculitis, mouth lesions, and strawberry gingivitis.
Results Clinical and radiological features are important tools in early diagnosis, but mucosal biopsies of the upper respiratory tract are still the  "gold standard" of GPA. Proper diagnosis is mandatory in order to successfully treat the pathology.
Conclusions These findings underscore the importance of performing a complete oral examination, along with complete anamnesis and clinical evaluation, in all patients in whom GPA is suspected.
Downloads
Download data is not yet available.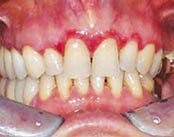 Info
Keywords:
Granulomatosis with polyangiitis (GPA), Wegener granulomatosisv, ANCA (anti-neutrophil cytoplasmic antibodies), Mouth lesions and "strawberry gingivitis"
##article.stats##
Abstract views:

30



pdf:

25
How to Cite
Lalla, F., Vinciguerra, A., Lissoni, A., Danè, G., & Abati, S. (2020). Oral lesions in Granulomatosis with polyangiitis (GPA): An updated overview. Journal of Osseointegration, 12(4), 736-742. https://doi.org/10.23805/JO.2020.12.04.2
This work is licensed under a Creative Commons Attribution-NonCommercial 4.0 International License.