A systematic review about randomized clinical trials on digital impressions on sound teeth
Abstract
Aim In the dental literature there are a number of studies about digital impressions. They mainly are focused on the reproducibility of the measurements or on the validity, accuracy, trueness and precision of the scans compared with conventional materials, or on the reaction of patients to these new methods. The purpose of this study was to systematically review existing clinical trials reporting about intra oral scanning procedures on sound teeth.
Materials and methods  PubMed, Cochrane Library and Web of Science databases were electronically searched and enriched by hand searches. The query terms "randomized clinical trials", "in vivo study", "sound teeth", "intraoral scanner", "digital dentistry" combined with the Boolean operators "OR" and "AND" have been used. No language or time limitation was applied.  Selection criteria: oly randomized in vivo studies where sound teeth had been scanned intraorally were considered.
Results Twenty-four out of more than three hundred studies were selected for the review.
Conclusion In literature there are enough randomized clinical trials about sound teeth. They report about many clinical aspects.
Downloads
Download data is not yet available.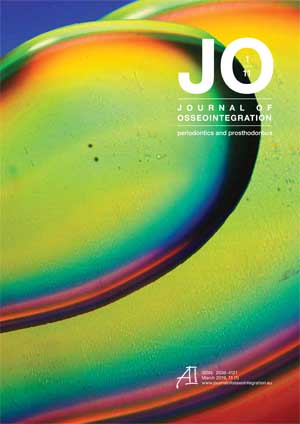 Keywords
digital dentistry, intraoral scanner, digital impressions
Statistics
Abstract views: 463

pdf: 303

Share it
PlumX Metrics
PlumX Metrics provide insights into the ways people interact with individual pieces of research output (articles, conference proceedings, book chapters, and many more) in the online environment. Examples include, when research is mentioned in the news or is tweeted about. Collectively known as PlumX Metrics, these metrics are divided into five categories to help make sense of the huge amounts of data involved and to enable analysis by comparing like with like.
How to Cite
Biagioni, A., Pecciarini, M., & Ferrari, M. (2019). A systematic review about randomized clinical trials on digital impressions on sound teeth. Journal of Osseointegration, 11(1), 2-6. https://doi.org/10.23805/JO.2019.11.01.01
This work is licensed under a Creative Commons Attribution-NonCommercial 4.0 International License.
PAGEPress has chosen to apply the Creative Commons Attribution NonCommercial 4.0 International License (CC BY-NC 4.0) to all manuscripts to be published.